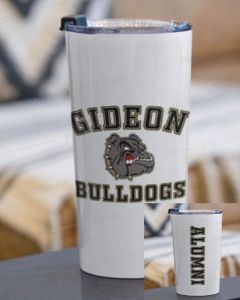 Gideon Alumni 20 oz Tumblers!
The tumbler will keep your drinks hot or cold for up to 4 hours!.
Comes with a clear slider lid and a straw.  A vacuum seal keeps liquids and carbonation fresh.
Hand washing is recommended.  Some dishwashers use high heat/dry cycles, possibly causing the ink to reactive and cause running.
Proceed from the Alumni Tumbler will go towards the Alumni Scholarship and upcoming Labor Day Homecoming events.
Soon you will be able to order directly from the web site, but for now contact Vonda Earnheart to order your tumbler.
price - $25
Photos do not do this item justice! Must see in person to really appreciate this collectible!